Personalising constructible chocolate and confectionery with bonboncoland.com
If you are looking for an unusual and fun edible gift bonboncoland.™ constructible chocolate and confectionery characters are ideal. These unique and delicious creations are great fun for the whole family.
Send as a great gift or receive your own letterbox friendly pack and get together with friends and family to create your very own sweet treat.
Founder, Jersey Chocolatier Mandy Gagnerie tells us more
I knew I had a hit on my hands with bonboncoland™ from the moment I shared the
product with people. I love the joy making up bonboncoland characters bring. It's
brilliantly British and an edible, fun and unique offering, an 'event in a box' to construct with family and friends and I'm going to show you how it works.
Let's take Absolutely Bananas! as an example (we have many more delicious characters
at bonboncoland.com)
Like all of our trees, Absolutely Bananas has x 2 solid chocolate 1/2 balls inside the head and the plant pot is also filled with the finest milk chocolate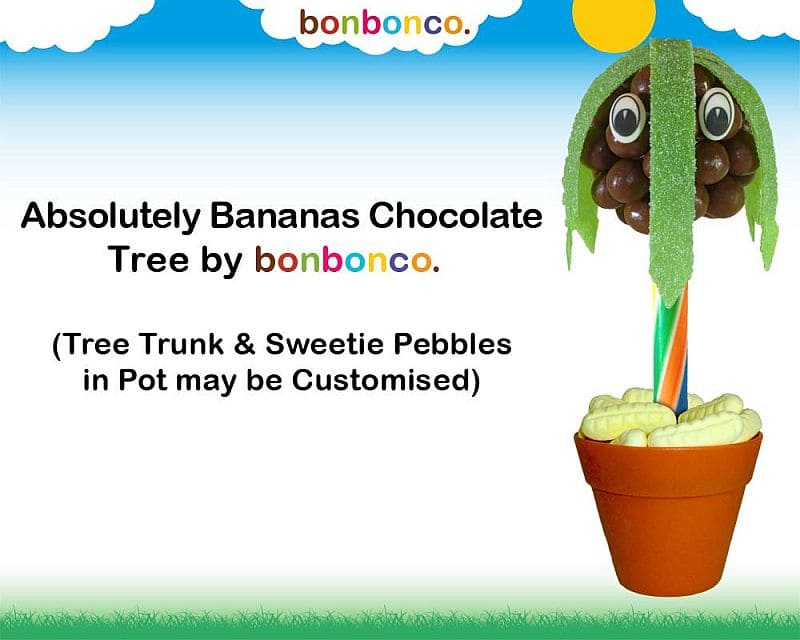 Construct your tree
Choose one of the brightly cloloured candy tree trunks. They are hand pulled in the UK by British artisans using the finest natural flavourings.
Next, choose the sweetie pebbles to go around the base of your tree trunk.
Every product we supply also comes with a complimentary 'Munch Whilst You Make Pack' to keep fingers and mouths from compromising the construction until it's completed!
Once you have eaten your tree you can keep the plant pots and use again. Our plant pots are both oven and freezer proof and are great for baking cupcakes!
Shrubberies Box
This also applies to our range of chocolate and confectionery 'Shrubs' which also have plant pots filled with chocolate. This time a 'yummy gummy garden worm' is placed in the centre of the pot and a 1/2 ball of chocolate is placed on top. Then selected confectionery and sugar eyes are added to create 'Wiggy', 'Blackberry and Raspberry' or 'Jelly Bean' shrub, The Shrubberies is also a trademark.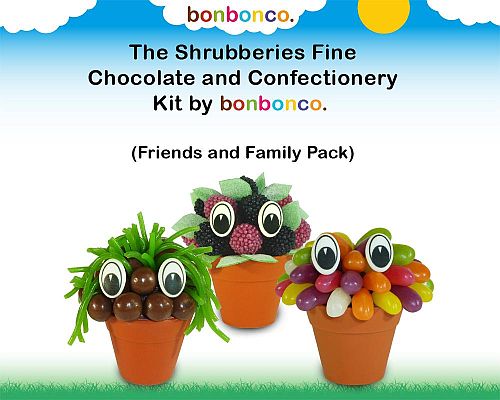 Have fun putting together your own edible 'Shrubberies' box
Avalanches and Volcanoes
We have Totally Edible Chocolate and Confectionery Avalanches and Volcanoes too! These are letterbox friendly, but stand approximately 18cm high when made up.
Their special features include being able to engulf your chosen gummy characters in white molten snow or red molten lava.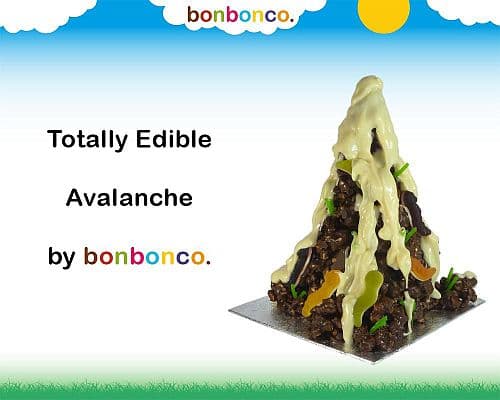 This 'event in a box' brings you the excitement of being a chocolatier.
How it started
Very early on my designs were feted as 'works of art' and I was invited to talk to local groups about my work. People kept telling me how wonderful it must be to be a chocolatier, but I noticed they weren't able to take part in the fun element of construction.
It became obvious that people were looking for immersive, interactive products and I wanted mine to create an emotional response; for their experience to be special, allowing the great British public to personalise the elements of the constructions I had in mind and I wanted to create an experiential UK based business, to play my part in British innovation, which I honestly believes ranks among the best in the World.
The bonboncoland.™ idea of constructible chocolate and confectionery characters, Trees/Shrubs/Avalanches/Volcanoes, inspired by nature, grew. Once I'd perfected a method enabling people to take part in the construction element of becoming a chocolatier the bonboncoland.™ way, we were on a roll.
Adults were invited to my events and as they constructed their characters, they became invested and excited. Exclamations of 'Wow! This is bonkers!' resonated and so bonboncoland.™ was born, destined to become the bridge between fine chocolate and confectionery that encourages you to play with your food.
Get your own Bonbonco creation
Order your own bonbonco chocolate and confectionery character and have the most fun you can have with chocolate and candy!