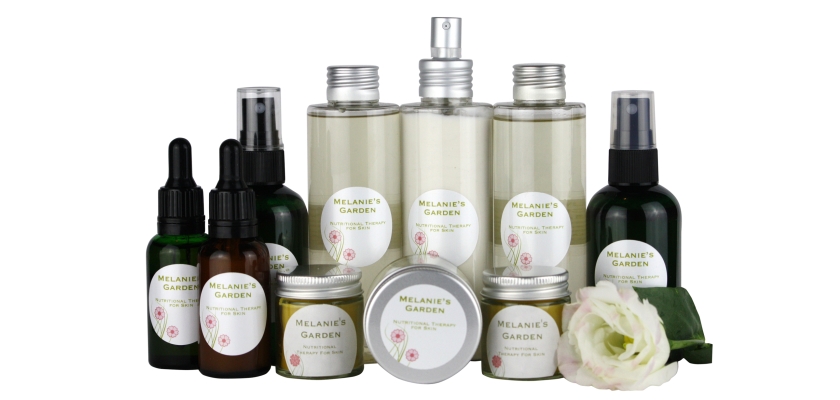 Melanie's Garden Beauty
Melanie's Garden is created by a Nutritional Therapist with a BSc in Nutritional Medicine along with diplomas in Reflexology, Hypnotherapy, Anatomy & Physiology, Body Massage and Natural Facials.
Melanie's Garden products contain essential fatty acids, (omega 3, 6, 7 and 9), vitamins, minerals, antioxidants and other nutrients all aimed towards improving the appearance of your skin. Whether you want to improve the appearance of oily spotty skin, sensitive skin, very dry skin, skin prone to eczema, rosacea and psoriasis, reduce the appearance of fine lines and wrinkles or just want to rediscover your skins natural radiance and vitality there is a range of products waiting for you.
Here at Melanie's Garden we believe in giving you affordable, effective, premium quality skincare that really works. Melanie's Garden is not the cheapest nor are we the most expensive. There are no expensive advertising and marketing campaigns to pay for (instead we rely on recommendations) and so all of our money goes into buying the very best quality raw ingredients from sustainable sources. We use no cheap fillers to increase our profit margins but instead every product is brimming with potent ingredients that can really make a difference.
We use no harsh synthetic ingredients such as parabens, sulphates, mineral oils, petrochemicals, synthetic fragrances and colours. We never test on animals and use no animal based ingredients; instead seeking ethically sourced effective plant ingredients in their place. Our products are suitable for both vegetarians and vegans. Of course being an ethical company supporting the environment we also never, ever use genetically modified ingredients. Organic ingredients are used where necessary in order for us to commit to supporting fair trade projects.
Melanie's Garden Parties Why not have a Melanie's Garden party? You'll receive 20% of the takings at the party to spend on products. All you have to do is provide some drinks and nibbles at your home and invite some friends along! Just email us and title your email MG Parties…
Melanie's garden products are hand crafted with love.
---
Contact Melanie's Garden
Visit the Melanie's Garden website
Connect on Facebook | Twitter
---
Share this page