After many years of working for some of the biggest names in the wallpaper design and print industry, Elizabeth Ockford has formed a high-end interiors brand under her own name.
Now, together with a small and highly creative team they produce collections under her own brand, Elizabeth Ockford Ltd. With inspiring moodboards and music, paint palettes alongside computers, and a modified digital printer, the light and friendly Sussex studio is a hive of multi-media activity, buzzing with collaborative energy and vibrant colour.
In March 2020 Elizabeth Ockford Ltd launched their debut collection, The Islands. Beautiful wallcoverings with contemporary designs featuring whales, lobsters, shells and tropical birds.
When we asked her which is her favourite design, she said "The next one that I'm working on… its always like this – I love something while I'm immersed in designing it and colouring it and then printing it- but then the next 'good idea' comes along and off I go again, that's my favourite design!"
So following on from the beautiful Island Collection, coming in Spring 2021 is the new collection – The Garden.
Sneak peak of the new collection, The Garden, due Spring 2021
Elizabeths Story
Elizabeth's creative talent and passion for colour, pattern, and form saw her study textile design at the Chelsea School of Art, before beginning her career, creating fabrics and wallpapers for the fashion and interiors industries.
After 13 years at one of the most prestigious and well-established brands in the world of interiors, latterly as Design Director, Elizabeth left London in 2004 to study fine art and print.
On completing her MA, Elizabeth launched her own creative studio in Sussex where she worked as a fine artist on commissions for both art and interiors clients, in addition to freelancing as a textiles and wallcovering designer.
In 2015 Elizabeth first began designing wallpapers under the Elizabeth Ockford brand and in November 2019 the company Elizabeth Ockford Ltd was formed.
Settling in the charming village of Lindfield in Sussex, Elizabeth now happily combines family life with her design work.
"Having spent all my career working with, and for many of the big
names in the industry, I always felt that I never wanted to have my
own brand – I was perfectly happy designing for others.
But life sometimes gives you the push you don't know you need –
and after a change in circumstances in the summer of 2019, I finally
decided to take the plunge and start my own business.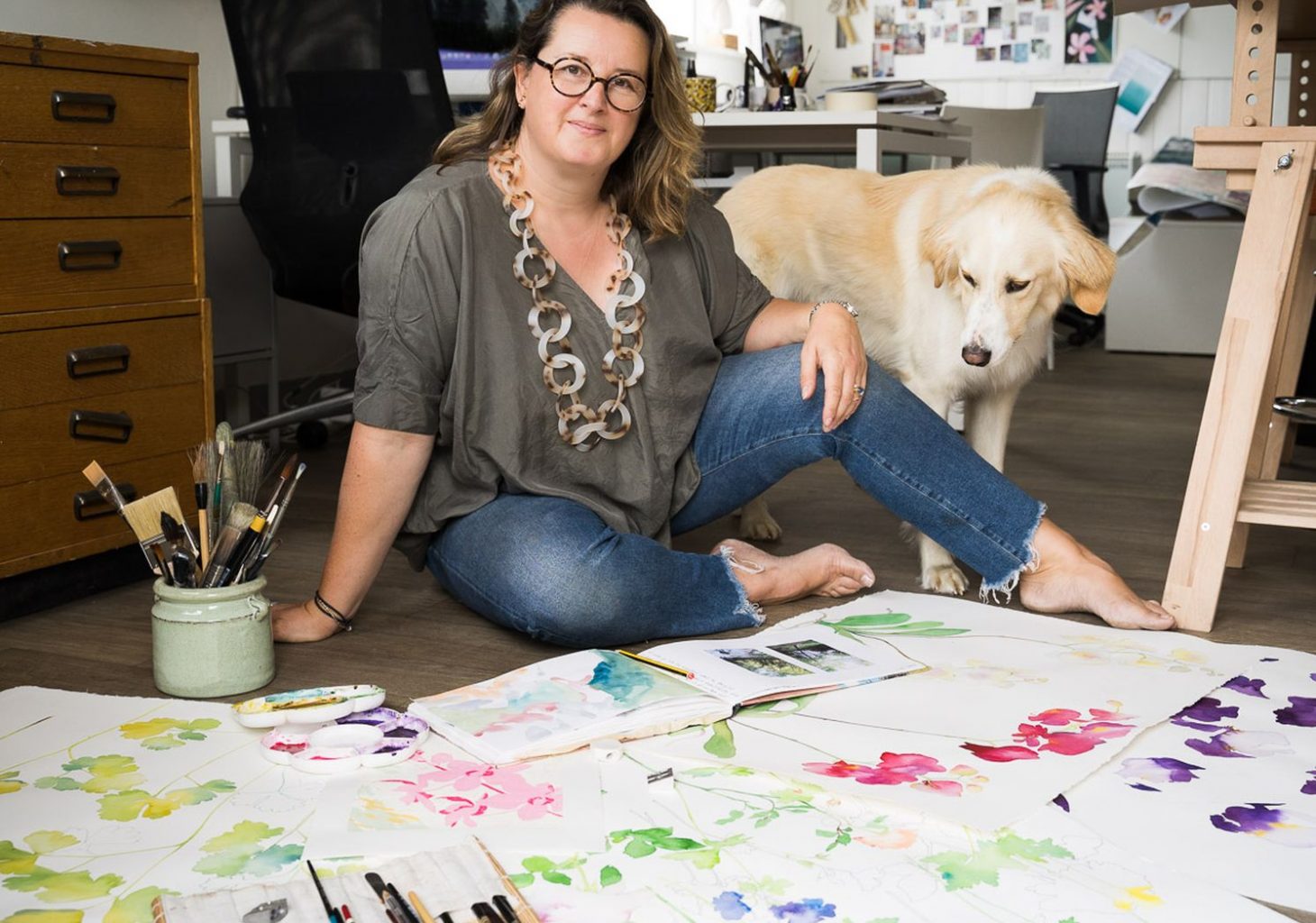 I can't believe now that I didn't do it before! It feels so much more
energising working for your own goals and driving yourself forwards
to make your own profits.
It means I can make my own value judgements about my designs
and how they look, how they are manufactured – plus it also gives
me greater freedom to support younger designers and other local
businesses and working mums – all things I care passionately about."
Elizabeth Ockford, owner and founder.
Elizabeth Ockford Ltd
This newly established brand offers an array of services from designing, printing and selling own brand wallcoverings; to offering a variety of bespoke wallpaper design and print services to trade, all whilst taking strong consideration into their environmental impact.
Bespoke Services
Alongside producing their debut collection, Elizabeth Ockford Ltd's dedicated design team can lead the customer through the process of creating their own wallpaper or modifying an existing digital design from the Elizabeth Ockford Ltd archive – from an initial concept through to creating a final design with maximum effect.
With a strong understanding of colour and meeting strict requirements, the design team can create a tailor-made colour scheme to suit the customer's project and achieve the perfect solution.
Environmental Consideration
Elizabeth Ockford Ltd have a serious outlook when it comes to reducing their carbon footprint. Alongside the day-to-day actions of switching off lights, computers and recycling their rubbish, the company also use paper from only FSC-certified sources, eco-friendly water-based inks for their printing and, most importantly, they have worked extensively to create packaging – for their debut collection – which is biodegradable and recyclable.

In addition to this, the company have partnered with an inspiring global reforestation initiative, One Tree Planted. As part of their one for one model, Elizabeth Ockford Ltd have pledged to contribute to a tree being planted for every roll sold from The Islands collection.
Contact
Please contact Elizabeth Ockford Ltd for any further information on how they can help you, including arranging interviews and offering expert advice from Elizabeth and her designers.