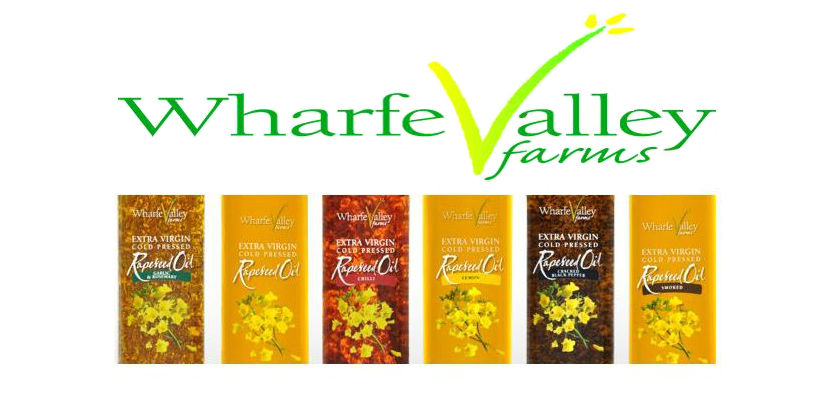 The Kilby family are third generation farmers who have been in Collingham since the 1960's, adding Oil Seed Rape to the traditional crop rotation in the early 1980's. Wharfe Valley Farms takes its name from the beautiful Wharfe Valley in Yorkshire.
Wharfe Valley Farms extra virgin cold pressed Rapeseed Oil. The local free draining fertile limestone soil on our farm produces a prolific rape crop, from which we produce Yorkshire Rapeseed Oil, Extra Virgin because we only press once and do not use heat or chemicals to extract the oil. Not only that but we do not use chemicals in our harvesting methods either, thus taking great care to preserve all the natural, nutritional values of this product.
All Wharfe Valley Oils are made with care and contain no chemicals.
Garlic and Rosemary Rapeseed Oil
This oil is infused with the deep, rich flavours of garlic and rosemary. Ideal for cooking roast potatoes, lamb or maybe just for dipping,
Red Chilli Rapeseed Oil
It's a hot combination that delivers a powerful kick! A note to all you chilli heads out there: the longer you keep it, the greater the heat…Adds spice to pizzas, soups and pasta dishes. Also great with grilled fish, chicken or maybe drizzled on roasted vegtables.
Sicilian Lemon Rapeseed Oil
Used by Stephanie Moon in the Great British Menu, for the Lemon Shortbread. It is also great with fish, or as a dressing.
Cracked Black Pepper Rapeseed Oil
Our extra virgin cold pressed rapeseed oil is infused with black pepper to enhance the taste and render a wonderfully spicy flavour that adds gentle warmth. Spice up creamy sauces or coat fillet steaks or chicken breasts to release a fragrant spicy flavour.
Oak Smoked Rapeseed Oil
With some help from our friend and bespoke furniture maker Robert Thompson 'The Mouseman' our award winning Oak Smoked Cold Pressed Rapeseed Oil has been developed. Try it with your mushrooms, or to add flavour to your barbecues.
Where to buy
The Wharfe Valley Oils range are available to buy online.

Contact Wharfe Valley Oil
Visit Wharfe Valley Oil
---
Share this page