English Apples
While there are thousands of varieties of Apples around the world and about 2,500 English varieties, supermarkets tend to stock a limited amount. Apples are versatile and used in cider-making, preserving, baking apple pies and crumbles and tarts.
Gala, Braeburn and Bramley apples are probably the most well-known varieties of apples but with so many other varieties with flavours, textures, colours and shapes that range from sharp to sweet, from richly aromatic to nutty, from crisp to juicy.
Eat English Apples – they are delicious!
Fresh local apples. The next time you are buying apples, look out for unusual and heritage varieties.
With names of local varieties, including Dumelow's Seedling, Cornish Aromatic and Lord Lambourne to the Worcester Pearmain, Pig's Nose Pippin and Dr Harvey – There are lots to try.
Delicious English dessert apples range in flavour from sweet and juicy to tart and crisp.
Traditional cooking apples tend to be larger, green in colour, with a slightly sour and bitter taste when eaten raw. They are used for making tarts, pies and fillings as they stay firm and hold their shape when cooking. Cooking apples will generally keep well.
Some apple varieties can be picked as cooking apples early in the season. Then, they become sweeter and eaten as a dessert apple from October to December.
When are English Apples in Season
The apple picking season signals the end of the British Summer when preparations for Harvest begin. Early varieties can be picked generally from August, late September and October is a key apple harvesting time in Britain.
The apple is Britain's national fruit and is botanically a member of the rose family.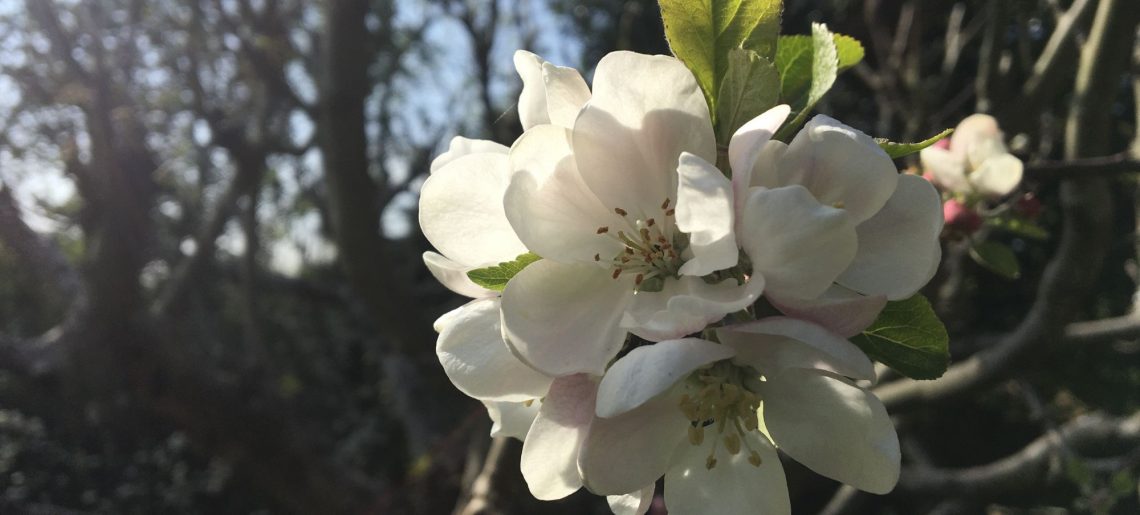 The National Fruit Collection
Brogdale near Faversham in Kent is the home of the National Fruit Collection. Brogdale has over 4000 varieties of apples, pears, plums and cherries, as well as soft fruit.
Visitors can take a guided tour of the beautiful orchards and learn more about the history of the collection. They also offer a handy fruit identification service if you have an unusual apple variety from your garden.
Tenbury Apples
The market town of Tenbury in Worcestershire on the river Teme is famous for Apples. The town was known as "the town in the orchard" due to the large numbers of fruit orchards of apple trees and also pears, quince and plum trees.
Today in celebration of this traditional fruit is the Tenbury Applefest, held every year on the first Saturday in October. The event is also a great opportunity to buy unique items from local crafts people in the shopping village.
Apple Day
Apple Day is a National event created by Common Ground in 1989 to celebrate and raise awareness about the importance of preserving traditional apple varieties, traditional landscapes and the countryside.
An Apple a Day keeps the Doctor away!
For eating, cooking, juicing and cider there is the perfect English apple variety to choose from. Look out for smaller growers at farmers' markets and farm shops, selling unusual and heritage varieties. Many regions also produce locally grown apple juice and ciders.
Enjoy home grown apples by planting your own fruit trees.
Where to buy English Apple trees – Delivered to your door
01.
Ashridge Trees
Choose from over a 100 different UK apple varieties
02.
Suttons
Buy a wide variety of apple trees from Suttons
03.
Orange Pipin
Selling a wide variety of English apples trees.
04.
Victoriana Nursery
Selling a wide variety of apple trees including heritage varieties grown in the Kent countryside.
Community orchards interactive map
Need a gift for an Apple lover? Have a look at this lovely coffee table book – Heritage Apples by Caroline Ball published by the Bodleian Library.
Searching for British made products?
Find regionally made products by independent businesses offering a unique range of goods. Every part of the country has it's own regional speciality and traditional crafts.
Shop for lovely products
British Produce