Berkeley Makers of the Finest British Dog Beds
AT LAST! A TOTALLY NEW TYPE OF DOG BED…Berkeley Dog Beds is based in the picturesque village of Wherwell, by the River Test in Hampshire.
Berkeley Dog Beds has developed a full range of dog beds including a unique and innovative Waterproof Dog Bed Mattress that uses pocket springs sandwiched between a six inch thick layer of natural wool felt, lambswool and cotton.
Owners Martin and Gail Starbuck have owned working Labrador gun dogs for thirty years and "must have spent a small fortune on countless different types of dog bedding." Martin stated.'
"Our experience was that the vast majority of dog beds available were simply not up to the job. Even the better ones were too flimsy, offered little if any insulation and joint support and soon started to break down and smell. We found that we were having to replace our dog beds on average around once every 3 months.' Armed with a list of criteria that we wanted to see in our ideal dog bed we spent many months researching modern orthopaedic mattress technology available in quality human beds to arrive at an ideal specification.
Working Labradors are notoriously hard on dog beds and ours proved perfect testers of the prototypes until we arrived at a final design which ticked all the boxes."We now have a dog bed that is 100% fit for purpose and still represents great value for money. "
Berkeley Dog Beds also offers a range of optional fabric covers to add a further touch of luxury and comfort making the beds a perfect match for both town and country homes, and raised and wooden beds to complete the range. The Berkeley Oak Dog Bed is a raised wooden dog bed beautifully hand-made to our unique design using English Oak from sustainable sources.
Berkeley Raised Dog Beds are made in the UK
Raised Dog Beds provide a really useful lightweight and inexpensive raised sleeping platform.
All are UK-manufactured and supported by a five year guarantee against faulty materials and workmanship.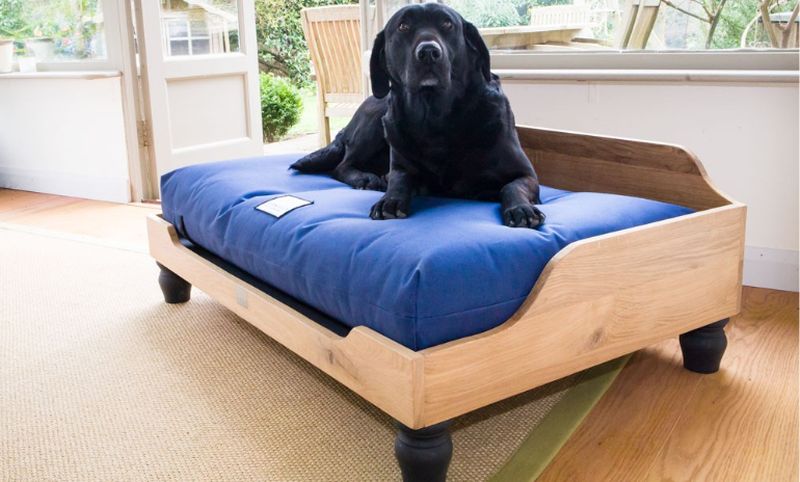 Where to buy Berkeley Dog Beds
All products are available for sale via the online shop as well as containing some really useful information to help you choose the best bed for your four- legged friend.
Contact Berkeley Dog Beds
Visit the Berkeley Dog Beds website
Connect on Facebook
---
Share this page